Heavy Duty Hydraulic Lifting Table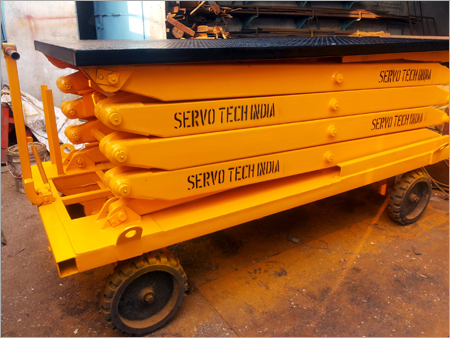 Heavy Duty Hydraulic Lifting Table
Price And Quantity
Piece/Pieces

460000.00 - 580000.00 MXN ($)
Product Description
We are reckoned as a renowned manufacturer and supplier of specially designed
Hydraulic Lifting Table
in the market.
Construction
The platform of this Hydraulic Lifting Table has been welded with plain or chequered patterned steel plate.
The high density steel plate of this lifting table is designed with scissors with different specifications and its weight range is up to 300 Kg. The weight of the scissors of the tube shaped portion of this table is more than 300 Kg.
The single acting or double acting cylinder of this lifting table consists of chrome steel rod and it is attached to the lower portion of stroke mechanical stop.
The offered product is available both with hydro electrical and hand pump driven operating system that are located either internal or external part of this lifting table.
The electric control chest of this equipment is fitted on its outer part and it requires 12VDC/24VDC/1 phased 230 or 3 phased 400 volts 50 Hz power for its functioning.
This electrical control chest is connected with manually operated emergency stop button and an up-down button.
The safety travel limit switches with adjustment facility is located inside a plastic fabricated automatic enclosure.
Security
The double hydraulic safety valve and check valve of its cylinder are useful for its safety during hazardous conditions like hose breaking and electric failure.
Each of its cylinder consists of automatically operated end of stroke stop.
The pressure limit valve set of this lifting table comes in handy during power overload which 1,1 time more than its capacity.
The electricity driven end of stroke switch of this machine automatically terminates its functioning.
The safety frame of this machine is located at the lower portion of its platform and this safety frame safeguards this machine from external damages.
The safety legs of this lifting table is advantageous for its convenient maintenance purpose.
Our lifting table is examined on the basis of various quality checking parameters before its final delivery in the market.
Main options :
Fix, removable or portable standardize safety handrails.
Retractable plinth and stop (drop proof security for the lifting trucks).
Reinforced platform for travelling overload in low position.
For side protection of the scissors and to forbid access under the lifting plate: safety removable safety skirts with bellows or steel net, curtains fabric or metal on spring winder.
Manually or motorized swivelling, tilting, telescopic or sliding platform.
Special treatment for aggressive surroundings (sanding and suitable painting, plating, hot dip galvanization).
Specific electric components : tropicalized, programmable automaton, etc.

Special models of lifting tables and equipment, on request:
Double Scissor Lifting Tables These are available in various specifications and the weight of their rotary roller plane top ranges between 100 kg to 10,000 kgs. These types of lifting tables are available with or without wheel facility and can be driven either by hydraulic driven hand pump or power pack. Their height ranges between 100 mm to 3000 mm.Pit Mounted Lifted Tables These can be obtained in different specifications with 100 kgs to 10,000 kgs weight range.
Single Scissor Lifting Tables Featured with hydraulic hand pump or power pack driven operating system, these lifting tables are available both with wheel and without wheel system with 100 mm to 5000 mm height range. Their weight spans between 100 kgs to 10,000 kgs.
High Rise Lifting Tables The weight of the rotary roller plane top of these lifting tables ranges between 100 kgs to 5000 kgs and these are accessible with wheel and without wheel design. Equipped with hydraulic hand pump or power pack controlled operating mode, the height of these products varies from 100 mm to 10,000 mm.
Small Size Lifting Tables These consist of rotary roller plane top and their weight range is 100 kgs to 5000 kgs. Featured with with wheels or without wheel system, these lifting tables can be regulated either by hydraulic hand pump or by power pack and their height spans between 100 mm to 3000 mm.
Product details
| | |
| --- | --- |
| Usage/Application | Industrial |
| Running Mode | Stationary |
| Working Height | 30 feet |
| Capacity | 2-3 ton |
| Min Lifting Height | any |
| Max. Lifting Height | 10 meter |
| Platform Area | any type |
| Brand | servo tech |
| Power | AC |
| Elevating Time | 50 to 60 mm per second |
| Handrail | Provided |
| Color | any |
| Material | mild steel |
| Voltage | 415 volt |
| Model Name/Number | STI |
| Lift Drive | stationary |
| Overall Dimensions | any as per customer requirment |